Between 7 and 11 August 2017, the 54th Conference of the Directors General of Civil Aviation Asia and Pacific Regions ("the 54th DGCA Conference"), was held in Ulaanbaatar, Mongolia.
More than 300 delegates from almost 40 countries and international experts discussed developments and the future of the air navigation services industry in the region. DFS Aviation Services was among those who accepted the invitation of the Civil Aviation Authority of Mongolia to attend this vital annual meeting of the Directors and industry experts. It was a welcome opportunity to come together with long-standing cooperation partners. Hans de Jong (Regional Manager East & South Asia) and Hans van der Meulen (Regional Manager Southeast Asia) represented DFS Aviation Services at the conference.
The theme topic of the conference was: "The Challenge of Managing Outcome-Focused and Risk-Based Regulations for Asia Pacific States." At heart, the conference considered the issue of performance-based regulations and the issues that arise from adopting a risk-based approach in safety management in the region.
The delegates met and discussed the status, developments and solutions for risk-based approaches to safety management. Quality assurance and the further development of joint cross-border use of aeronautical systems, methods and data as well as the maximisation of the economic benefits from civil aviation in the region were debated in this regard.
DFS Aviation Services acted not only as an interested attendee, it also co-sponsored the event. This was an opportunity to both support this important event and to introduce the new DFS subsidiary. Over the course of the week, DFS Aviation Services presented its portfolio to high-ranking delegates at the event and explained its role within the DFS Group.
The conference is an annual event that is held in one of the Member States and provides a platform for exchanging views on the important issues currently facing the sector. The objective is to define common areas of action. The International Civil Aviation Organisation (ICAO) acts as both organiser and delegate. This organisation has the status of a specialised agency of the United Nations and was set up to promote the long-term growth in civil aviation worldwide. The pool of delegates attending is made up of representatives and civil aviation authorities from the Asia-Pacific regions, air navigation service providers, system providers and delegations from other countries from around the world, such as France and Germany (represented by DFS Aviation Services). The international air traffic management (ATM) organisations IATA (International Air Transport Association) and CANSO (Civil Air Navigation Services Organisation) also attend.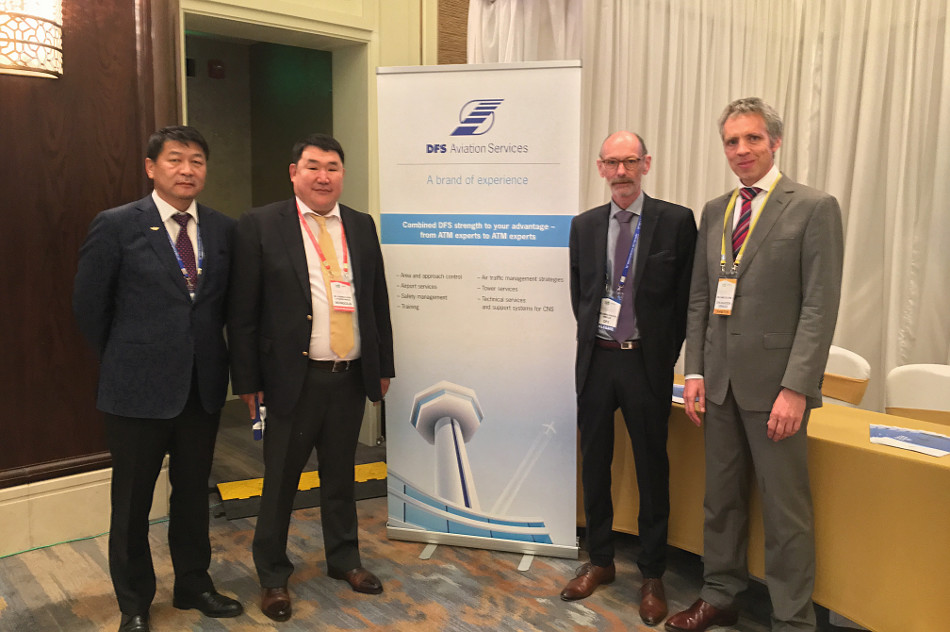 (From right to left) Hans de Jong and Hans von der Meulen – our experts for the region – warmly welcoming Bayambasuren L., the Director General of the Civil Aviation Authority of Mongolia and Altatsom B., the Senior Deputy Director General to the DFS Aviation Services stand.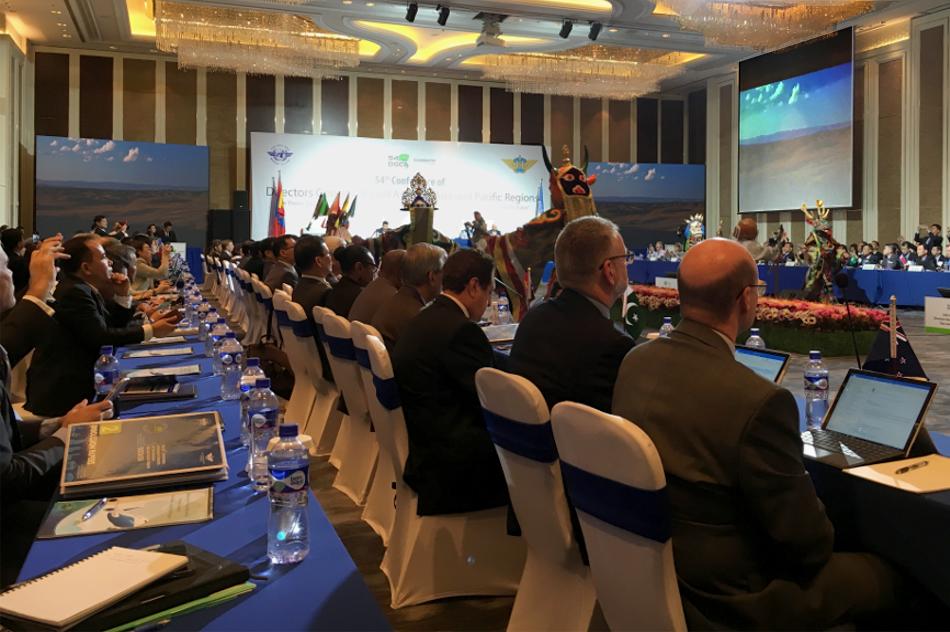 The delegates were also offered a fascinating insight into Mongolian culture at the event.