DFS Aviation Services and DFS successfully completed the installation of a centralised PHOENIX system for eight military towers of the Military Air Traffic Control Centre of the Royal Netherlands Air Force until the end of 2017.
In August 2016, the contract to provide a new radar data display and processing system was awarded to the Aeronautical Solutions Division of DFS, which is now part of DFS Aviation Services. Since then, DFS Aviation Services ensured that the project was completed as contractually agreed. 2017, the DFS Systems House carried out the technical implementation while the customer executed the installation with the support of DFS.
With a centralised PHOENIX system architecture, LVNL now has a system that supplies eight military towers at different locations with an air situation display. Both the servers and the client workstations were installed centrally in Amsterdam. Only the monitors of the controller working positions (CWP) and their operating peripherals were installed in the military towers themselves. These are connected to the central hardware. In addition, the new system offers a combined PHOENIX maintenance working position (MWP) primarily used for system monitoring, but also for processing flight data and charts.
One special technical feature of the new system is that it does not use the PHOENIX Multi-sensor Data Fusion Tracker, but displays the track data of various Eurocontrol ARTAS trackers in the PHOENIX CWP, or even the raw radar data. The controllers are responsible for selecting which data is displayed – track or radar data.
With the completion of the PHOENIX MIL TOWER project, Military Air Traffic Control Centre of the Royal Netherlands Air Force (CLSK) and the agency in charge of air traffic control of the Netherlands (LVNL) are further expanding the successful use of DFS PHOENIX systems in Dutch air navigation services as well as the cooperation with DFS and DFS Aviation Services.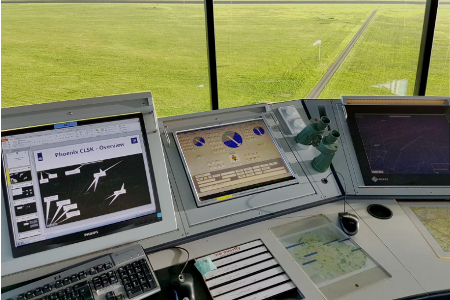 The PHOENIX air situation is displayed on the right monitor.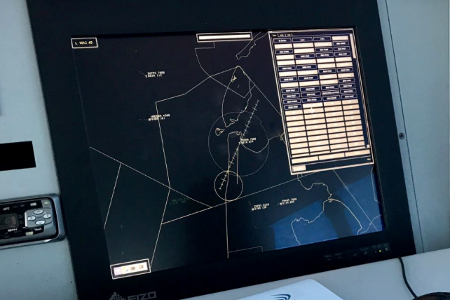 The user interface is adapted to the customer requirements.