This year, the world's largest air navigation services exhibition took place for the sixth time in Madrid from 6 to 8 March, breaking visitor records once again.
A total of 8,542 attendees and 237 exhibitors from 136 countries took part, around 10 percent more than in 2017. This new record underlines the significance of the fair for the ATM industry.
Organised by the Civil Air Navigation Services Organisation (CANSO) and Air Traffic Control Association (ATCA), the three-day-long congress featured more than 100 events and more than 260 specialist presentations in a single exhibition hall. International system manufacturers and ANSPs presented new products and solutions, discussed the latest trends and signed contracts and cooperation agreements directly on site.
The stand shared by DFS Deutsche Flugsicherung (DFS) and DFS Aviation Services (DFS AS) attracted more visitors than last year. Highlights included a presentation of the DFS Remote Tower solution developed jointly with Frequentis, the latest developments in Drone Traffic Management and the current developments of the DFS ATM system PHOENIX and the DFS Arrival Manager. In addition, a team of experts from the DFS Cloud Simulator NEWSIMWeb was on site to demonstrate its potential.
The popular DFS receptions on Tuesday and Wednesday afternoons also attracted a large number of visitors. The press, business partners and visitors also gathered at the stand to hear the announcement of a joint venture between DFS, DFS AS and Frequentis for the international marketing of remote tower turnkey solutions. Frequentis and DFS AS will establish a joint venture called FREQUENTIS DFS AEROSENSE this year.
In addition, a Memorandum of Understanding between the Brazilian technology provider Atech and DFS AS was concluded, declaring both sides' intention to jointly develop system solutions for en-route, approach and aerodrome control.
Two "SESAR Walking Tours" were organised to inform participants about two projects: the PROSA project "Controller Tools and Team Organisation for Separation Management" and the DFS Remote Tower solution from the perspective of an air traffic controller.
This year's congress focused on a number of important topics: remote aerodrome control using digital tower solutions, the integration of drones into airspace (UAS/UTM), the advancing digitalisation and automation of processes and the formation of international collaborations against the background of liberalisation and commercialisation of air traffic services.
Next year, the World ATM Congress will take place from 12 – 14 March.
We are looking forward to seeing you there!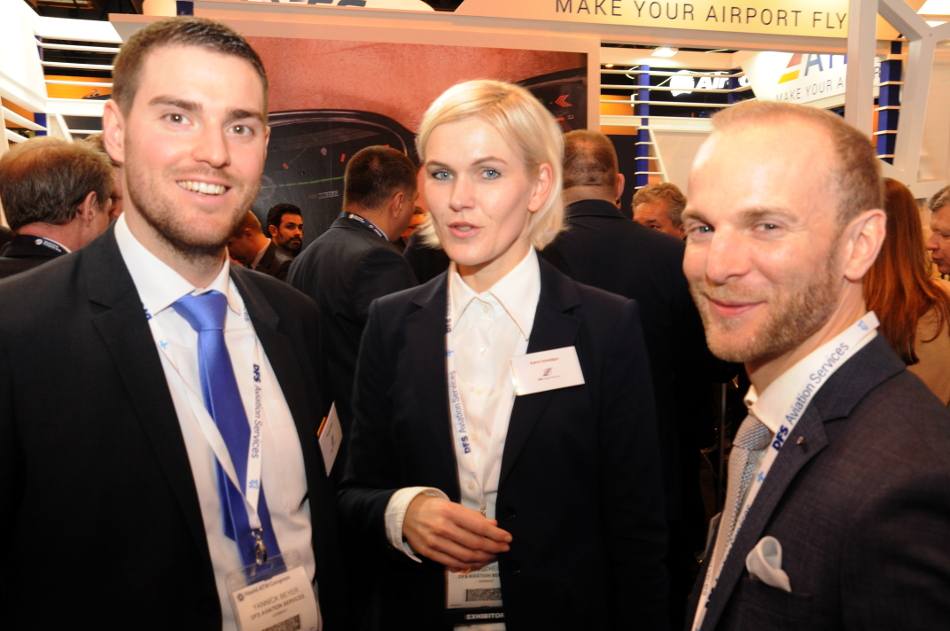 From left to right: Yannick Beyer (Sales Manager Europe, DFS AS), Katrin Scheidgen (Head of Business Development, DFS AS & Managing Director of the new joint venture FREQUENTIS DFS AEROSENSE) and Christian Dorge (Technical Project Manager at DFS).