The Civil Aviation Authority of Singapore (CAAS) and DFS Aviation Services, the commercial subsidiary of the German air navigation service provider DFS Deutsche Flugsicherung, have signed a Memorandum of Understanding (MoU) to collaborate on a wide range of air traffic management (ATM)-related activities. The MoU was signed by Soh Poh Theen, Deputy Director-General (Air Navigation Services) of CAAS, as well as Oliver Cristinetti and Dirk Mahns, Managing Directors of DFS Aviation Services.
The collaboration will see CAAS and DFS Aviation Services to further optimise safety management systems, benchmark performance indicators, as well as develop future air traffic management concepts, solutions and technologies.
Kevin Shum, Director-General of CAAS: "This collaboration is part of our ongoing efforts to enhance ATM safety and efficiency in our busy skies. Asia is one of the fastest growing air transport regions in the world today. This MoU will enable our organisations to explore and develop more innovative solutions to accommodate aviation growth.
Klaus-Dieter Scheurle, Chairman and CEO of DFS, said: "We welcome the collaboration with the Civil Aviation Authority of Singapore. Singapore is a central hub in Asia. The German airspace is among the busiest and most complex airspaces in Europe. I am convinced that we will be able to mutually and viably share our experiences gained."
"We are delighted that the existing joint work between our two organisations is being intensified. I believe that the knowledge and project experience we have acquired around the world as well as our know-how from the busy airports of London Gatwick and Edinburgh will prove useful for our cooperation," said Oliver Cristinetti, Managing Director, DFS Aviation Services.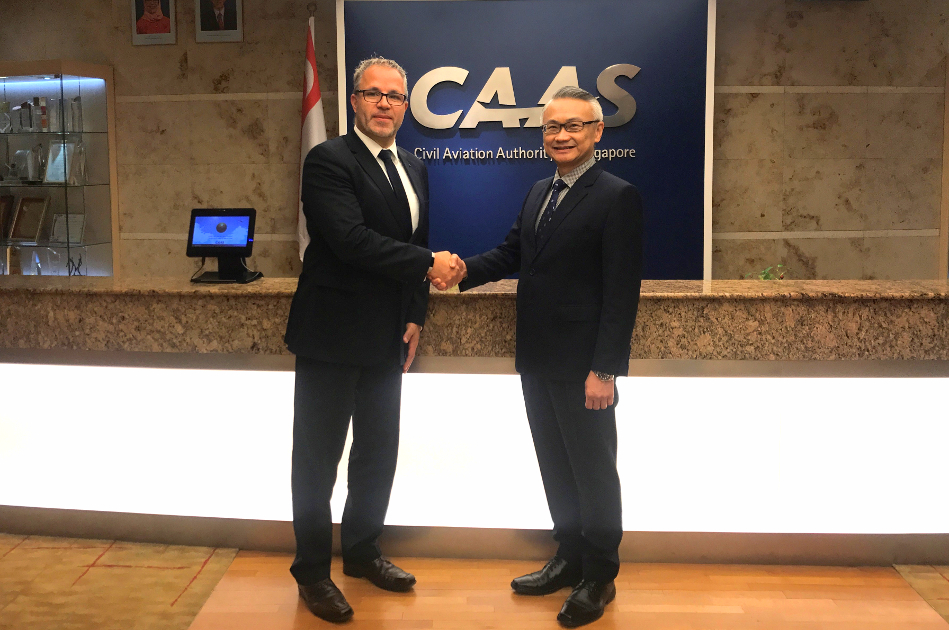 Mr. Soh Poh Theen, Stellvertretender Generaldirektor (Air Navigation Services), Luftfahrtbehörde von Singapur (CAAS), mit Mr. Oliver Cristinetti, Managing Director, DFS Aviation Services (v.r.n.l.).
Picture source: Civil Aviation Authority of Singapore
Media contacts
Cindy Peh
Manager Corporate Communications
Civil Aviation Authority of Singapore
Telefon: +65 (0)6541 2913
Mobil: +65 (0)9223 3281
cindy_peh@caas.gov.sg
Irina Wöhrmann
Expert Marketing
DFS Aviation Services GmbH
Telefon: +49 (0)6103 3748 141
Mobil: +49 (0)175 4866671
irina.woehrmann@dfs-as.aero
The mission of the Civil Aviation Authority of Singapore (CAAS) is to "grow a safe, vibrant air hub and civil aviation system, making a key contribution to Singapore's success". CAAS' role is to oversee and promote safety in the aviation industry, develop the air hub and aviation industry, provide air navigation services, develop Singapore as a centre for aviation knowledge and training, and contribute to the development of international aviation.
www.caas.gov.sg
DFS Aviation Services GmbH is a wholly owned subsidiary of DFS, the German ANSP. It employs more than 110 members of staff. DFS Aviation Services is a certified ANSP and provides air traffic services at nine regional airports in Germany. Through its UK subsidiary, Air Navigation Solutions, it is also responsible for the provision of air traffic control at the UK's second busiest airport London Gatwick and at Edinburgh Airport. DFS Aviation Services also markets and sells products and services related to air navigation services. Its customers include air navigation services organisations, airport operators, airlines and aeronautical authorities from around the world.
Weitere Informationen finden Sie unter:
www.dfs-as.aero
DFS Deutsche Flugsicherung GmbH, the German air navigation service provider, is a State-owned company under private law with 5,400 employees. DFS ensures the safe and punctual flow of air traffic over Germany. Around 2,000 air traffic controllers guide up to 10,000 flights in German airspace every day, more than three million movements every year. This makes Germany the country with the highest traffic volume in Europe. The company operates control centres in Langen, Bremen, Karlsruhe and Munich as well as control towers at the 16 international airports in Germany. The subsidiary DFS Aviation Services GmbH markets and sells products and services related to air navigation services, and provides air traffic control at nine regional airports in Germany and at London Gatwick Airport and Edinburgh Airport in the UK.
www.dfs.de