In the future, air traffic at Bodensee-Airport Friedrichshafen, situated on Lake Constance, will be controlled by DFS Aviation Services. The DFS subsidiary will replace the Austrian air navigation service provider Austro Control there from 1 July 2018 on. In addition, it will support the modernisation of the airport.
DFS Aviation Services, which currently controls air traffic at nine regional airports in Germany, has gained a new customer. From 1 July 2018, the subsidiary will be responsible for controlling air traffic at Bodensee-Airport Friedrichshafen on the shores of Lake Constance in southern Germany. DFS Aviation Services will take over all eight air traffic controllers at the site. The contract with the airport on Lake Constance has been concluded for a term of eight years.
DFS Aviation Services will not only provide air navigation services at Friedrichshafen, but will also train their future air traffic controllers. Furthermore, the company will support the airport operator in technical matters such as replacing air traffic control systems and optimising air navigation services. In addition, the DFS subsidiary will advise the airport on finding a replacement solution for its current tower. The control tower built in the 1950s is in need of renovation and no longer provides sufficient space. "DFS Aviation Services already boasts Germany's highest-traffic regional airports among its customers. We are pleased to be able to contribute our many years of experience to Bodensee-Airport Friedrichshafen, which has a rich tradition", stated Dirk Mahns, Managing Director at DFS Aviation Services.
Bodensee-Airport Friedrichshafen is Germany's southernmost airport. It was founded in 1913 for the Zeppelin industry, making it the second oldest airport in Germany after Hamburg. In 2017, 9,919 take-offs and landings under instrument flight rules were recorded at the airport. Over the same time span, more than half a million passengers passed through the airport. "We are pleased to have found a competent and reliable partner in DFS Aviation Services who will support us in our plans for the future of the airport," says Claus-Dieter Wehr, Managing Director of Bodensee-Airport Friedrichshafen.
Media contact:
Irina Wöhrmann
DFS Aviation Services
Telefon (06103) 3748141
Irina.woehrmann@dfs-as.aero
Andreas Humer-Hager
Flughafen Friedrichshafen
Telefon: (07541) 284190
fdh-presse@bodensee-airport.eu
DFS Aviation Services GmbH is a wholly owned subsidiary of DFS, the German air navigation service provider (ANSP). It employs more than 110 members of staff as at January 2018. DFS Aviation Services is a certified ANSP and provides air traffic services at nine regional airports in Germany. Through its UK subsidiary, Air Navigation Solutions, it is also responsible for the provision of air traffic control at London Gatwick, the UK's second largest airport. DFS Aviation Services also markets and sells products and services related to air navigation services. Its customers include air navigation services organisations, airport operators, airlines and aeronautical authorities from around the world. https://dfs-as.aero/
Bodensee-Airport Friedrichshafen is Germany's southernmost commercial airport and is located in convenient proximity to Austria, Switzerland and Liechtenstein in the German state of Baden-Württemberg. With just under 520,000 passengers per year, the airport makes a significant contribution to the strength of the region's economy. It offers a wide spectrum of direct connections from established airlines as well as numerous connecting flights. The airport is directly connected to the world route network owing to the scheduled flights offered by Lufthansa to the Star Alliance hub at Frankfurt Airport (several times a day) and Turkish Airlines (again from summer 2018), which is offering flights to its hub in Istanbul with over 280 destinations. http://www.bodensee-airport.eu/
Bildquelle: Flughafen Friedrichshafen GmbH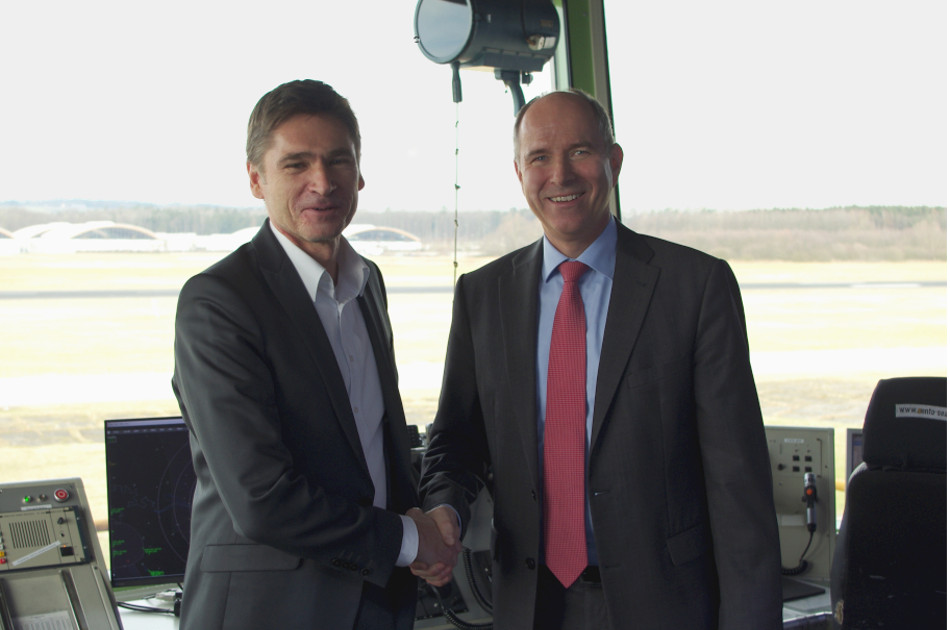 Dirk Mahns, CEO DFS Aviation Services GmbH (l.), and Claus-Dieter Wehr, CEO Flughafen Friedrichshafen GmbH, in the control tower.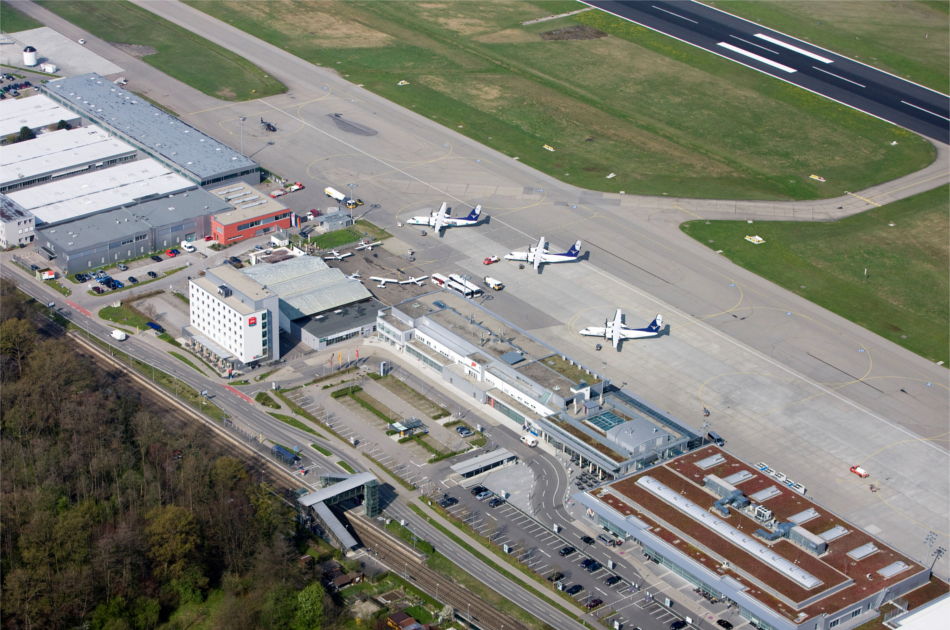 Aerial view of Bodensee-Airport Friedrichshafen.