04.07.2017 – On 26 and 27 June, a high-level delegation from the Air Traffic Management Bureau of Civil Aviation Administration of China (ATMB) visited DFS Aviation Services in Langen, Germany. During their stay, they had a tour of the DFS Air Navigation Services Academy to learn more about operational training.
The visit was organised and managed by Oliver Cristinetti (Managing Director) and Hans de Jong (Regional Manager East & South Asia).
Deputy Director General & Secretary of the Party Committee of the Chinese air navigation service provider GAO Yi headed the delegation from China. The group was visibly impressed by the in-house 3D tower and ACC/APP simulator as well as by the informative presentations given by Otto Fischer, Director of the DFS Academy, and Kevin John Salter, Head of Air Traffic Management Training at DFS.
It was with great pleasure that Prof Scheurle (CEO and Chairman of the Board of DFS Deutsche Flugsicherung GmbH) welcomed the delegation and GAO YI to DFS. He expressed how much he would look forward to a cooperation between the Chinese air navigation service provider and the DFS Group.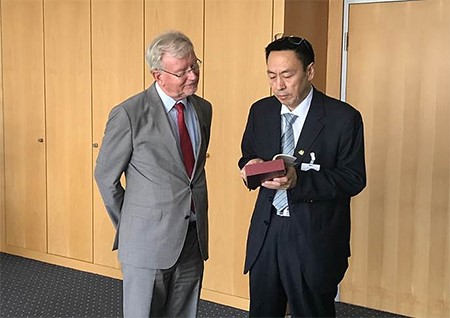 Prof Scheurle (DFS Deutsche Flugsicherung) welcomes GAO Yi (Chinese air navigation service provider) at DFS Headquarters.